A Vital Key in Brain Healing
January 30th  from 12 noon to 1:00 PM (EST,PST,MST PST)
1-hr Continuing Education Webinar with Dr. James Meschino DC, MS, ROHP
In this webinar Dr. James Meschino reviews the pathophysiological events that occur in the brain cell following a concussion injury. The webinar then provides evidence-based nutritional strategies shown to repair specific brain cell damage in concussion, ensuring more complete healing, speedier recovery, reduced risk of post-concussion syndrome and second impact syndrome.
A review of literature demonstrates that only targeted nutritional interventions have shown the ability to repair damage to the brain cell membrane, mitochondria, and axonal microtubules in concussion and boost the natural synthesis of key neurotransmitters and other key molecules required for normal memory, cognition and mood. There are no drugs or other interventions that can accomplish these critical healing processes.
Health practitioners in all professions, who see concussion patients, should sign-up for this highly illuminating and clinically-relevant review of clinical nutrition in concussion management.
---
Dr.James Meschino DC, MS, ROHP
Author of the Anti-Aging and Natural Therapies Column in Dynamic Chiropractic Magazine, since the late 1990's.
Author, Researcher, Educator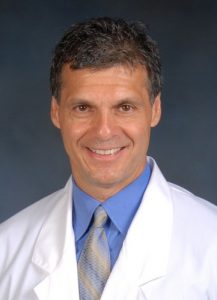 Originally, a Doctor of Chiropractic (1979), James went on to complete a Masters degree in science with specialties in human nutrition and biology at the University of Bridgeport Connecticut (1984), as well as completing a US-based Doctor of Naturopathy program (2007). He is also a Registered Orthomolecular Health Practitioner (ROHP 2013- sanctioned by the International Organization of Nutritional Consultants www.ionc.org). Dr. Meschino is an associate professor at the Canadian Memorial Chiropractic College in Toronto, where he has taught courses in the biochemistry and nutrition programs since 1984. He has coordinated and taught the second and third year nutrition courses at the Canadian College of Naturopathic Medicine and continues to provide continuing education courses on nutrition, natural medicine and anti-aging to medical doctors, pharmacists, chiropractors and other health care providers in the United States and Canada, and Dubai (2015).
He has been a faculty member of the American Council on Exercise (ACE), teaching courses to fitness professionals on nutrition, athletic performance and anti-aging. Dr Meschino is presently the Director of Nutritional Therapy for the Cancer Immuno-therapy Centre in Toronto, where he works with a team of team of medical physicians that provide evidence-based integrative cancer treatments.
From 1979 to the late 19902019s Dr, Meschino ran a private practice, primarily operating the sports injury clinic at Toronto2019s Columbus Centre, where he also ran his nutrition counselling practice (Meschino Nutritional Consultants) and the accident injury rehabilitation management company (PACE Rehab). In the early 2000s Dr. Meschino was hired as a practitioner at the Ryerson University Health Clinic in Toronto, which provides medical and allied health services to students, staff and faculty of the university.
In 2010, Dr. Meschino was asked to join the faculty of the American Academy of Anti-Aging Medicine where he taught medical doctors, oncologists and naturopaths a 12- hour, CME-approved program on 201cThe Evidence-based Adjunctive Nutritional Management of Cancer201d as an educational module within Integrative Cancer Therapy Fellowship Program, offered by this medical organization (A4M).
Since the late 19902019s he was a guest lecturer at the Regency Natural Health Spa in Hollywood Florida 2013 a health retreat focused on weight management and the prevention and management of common health problems using nutrition and lifestyle medicine.
He also founded The RenaiSante Institute of Integrative Medicine, which provides continuing education programs on nutrition, exercise and supplementation to healthcare professionals, involving live seminars, DVD programs and Internet-based continuing education programs (www.renaisante.com).
Dr Meschino has co-authored and authored four books: The Winning Weigh – 7 Steps To Healthier Living; Break The Weight-Loss Barrier (Prentice-Hall) The Wrinkle-Free Zone (Basic Health Publications) and The Meschino Optimal Living Program – 7 Steps To A Healthy, Fit, Age-Resistant Body (Wiley Publishing). He has published over 150 research review articles in health professional trade publications and has published numerous articles for many health-based consumer magazines, such Canadian Health and Lifestyle, Sharp magazine and the Canadian Natural Health Retailer.
Along with hosting his own health talk radio show on 640-AM in Toronto, Dr. Meschino was the resident wellness expert on Canadian Living, a daily national TV program on the CTV network. As well, he has been a guest on numerous TV and radio interview shows in Canada and the United States, including Good Morning Texas, KTLA (Los Angeles) and Great Day America (Fox Network). In 2011 Dr. Meschino2019s 90-minute TV special, entitled 201cHealthy Aging, Naturally201d, aired twice on Detroit PBS TV.
Dr. Meschino is also the founder, president and product formulator of Adeeva Nutritionals, a professional supplement line dispensed by over 2000 health practitioners (www.adeevainfo.com). He is also the president of Meschino Health and Wellness Inc. (www.meschinowellness.net ), which provides employee wellness programs via digital media to private employers, governments and union members.
Dr. Meschino has developed and implemented corporate wellness programs for St Joseph2019s Printing (Vaughan, On), Telematix Software (Ft Lauderdale, Fla), Columbus Centre (Toronto, On), Regency Health Resort (Hallandale Fla), Canada Trust (Southwestern Region) and Loblaw stores. Dr. Meschino continues to teach live, on-site, employee wellness seminars, as well as Webchat programs, for many large companies and associations. In recent years, the list of live, on-site seminars has included RIM Canada, Petro-Canada, Ontario and Lottery Gaming Corporation, ADP 2013Payroll, Fraser, Milner, Cargrain LLP, Unilever, Amgen, Borden Ladner, Gervais LLP, Motorola, BDO Dunwoody LLP, CIBC-Mellon, Blake, Cassels & Graydon LLP, Blue Mountain Resort, Eckler Ltd, Bayer, British Columbia Colleges and Universities HR AGM conference, International Federation of Employee Benefit Plans annual conference (Las Vegas, San Diego and Montreal), the Human Resource Professional Association (AGM), Safeway Sobeys, and the Calgary District Pipe Trades